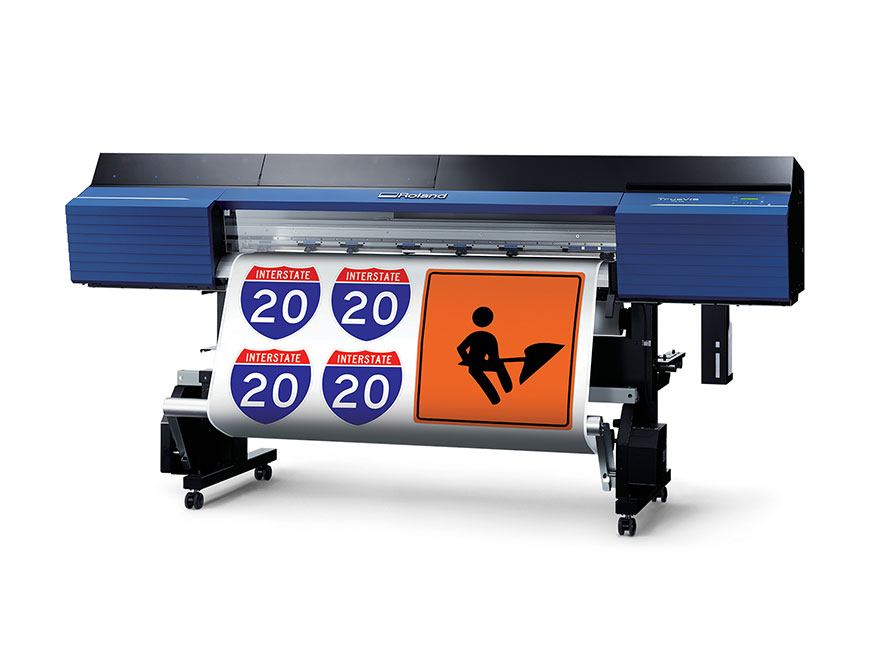 ​
Roland DGA (Irvine, CA), in association with ORAFOL, has released Roland DGA TrafficWorks – a turnkey traffic sign printing solution that allows PSPs to expand their product offerings and create new revenue streams.
According to a statement made by Roland DGA, TrafficWorks is an "all-in-one" solution that makes both designing and printing industry-standard MUTCD, ASTM and FHWA compliant traffic signs simple, while also minimizing production costs. The TrafficWorks solution, designed around Roland DG's TrueVIS VG2 wide-format printer/cutters and wide-gamut, GREENGUARD certified TR2 inks, includes all the tools needed to produce full-color, reflective, color-compliant traffic signs.
The complete package includes either a VG2-640 or VG2-540, powerful, user-friendly Roland DGA TrafficWorks design and RIP software (powered by SAi) featuring MUTCD compliant sign templates, a traffic-specific color library, fonts, and custom profiles, ORAFOL 5900 reflective media, and 5061 laminate, as well as Roland DGA certification and a digital training course. Customers who already own a VG2 inkjet that has an 8-color with orange ink configuration can purchase the "kit" portion of the solution only, which includes all other package components except the VG2 printer/cutter.
The Roland DGA TrafficWorks certification program provides end users with general training on MUTCD, ASTM and FHWA traffic signage standards, along with instruction on how to produce signs using the VG2. Dealers are also required to complete a Roland DGA certification program before receiving authorization to sell the TrafficWorks solution.